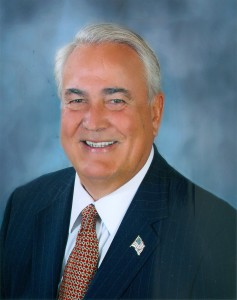 Communications Officer
Nuclear Waste Strategy Coalition
Vice-Chairman
Georgia Public Service Commission
McDonald, who served 20 years as a state Representative, was appointed to the PSC by Governor Zell Miller to fill a vacated post and then re-elected in a special mid-term election in 1998. He held the seat until 2002. On December 2, 2008, Georgians elected McDonald to serve on the PSC again.  The voters re-elected him again in November 2014 to another six-year term.
McDonald has a deep knowledge of the energy industry. Today he is a member of NARUC's Electric Committee and is Vice-Chair of the Nuclear Waste Subcommittee.  He also serves on the Nuclear Waste Strategy Coalition's Executive Committee, focusing on the organization's communications to Congress, government officials, and the public.
McDonald has spent decades serving the residents of Georgia. As a state Representative, he chaired the Industry Committee for five years and the Appropriations Committee for eight years. He also served as a commissioner in Jackson County, served on the Board of Managers of the Association of County Commissioners of Georgia, and volunteered as a Firefighter for the city of Commerce for 35 years. He also served six years in the Georgia Air National Guard.
A native of Commerce who now resides in Clarkesville, McDonald is a graduate of the University of Georgia with a BBA in Business. He has long been a supporter of higher education, serving on the Board of Governors of Mercer Medical College and the Board of the Advanced Technology Center at the Georgia Institute of Technology. He was also a director of the Small Business Development Center at the University of Georgia.
McDonald has lived his entire life within District Four of the PSC. Currently, he is a partner in L.W. McDonald & Son Funeral Home in Cumming and Dahlonega with his son, Lauren III. He married Shelley McDonald in May 2012. He was married to the late Sunny Nivens McDonald for 45 years. He is an elder in the Presbyterian Church, a private pilot, and an avid golfer.