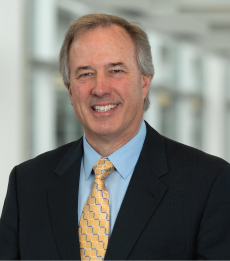 Vice Chairman
Nuclear Waste Strategy Coalition
Vice President of Corporate & Government Affairs
DTE Energy
Renze Hoeksema is currently the Vice President of Corporate and Government Affairs for DTE Energy, a Detroit-based diversified energy company involved in the development and management of energy-related businesses and services nationwide.  Its largest operating units are DTE Electric, an electric utility serving 2.1 million customers in Southeastern Michigan, and DTE Gas, a natural gas utility serving 1.2 million customers in Michigan.  Renze has been a member of the Nuclear Waste Strategy Coalition board since 2001 and currently serves on their Executive Committee as vice chairman.  He also serves on the Nuclear Energy Institute's Integrated Used Nuclear Fuel Task Force.  At DTE Energy, Renze's responsibilities involve overseeing the company's corporate federal, state and local government affairs work.  He most recently served as director of State Government Affairs, managing the government and regulatory affairs activities in Lansing and shaping the activities of DTE's political action committee.  Before his return to Michigan, he served 12 years as director of Federal Affairs for DTE Energy in Washington, D.C.
Prior to assuming his responsibilities with DTE in 2001, Renze was director of government and corporate affairs for MichCon and its parent company, MCN Corporation.  He joined MichCon in 1981, and held a variety of management positions responsible for speechwriting, media relations, the political action committee, economic development, and local, state and federal government affairs.
Renze is a board member of the Public Affairs Council and a member of the Advisory Committee of the Children's Trust Fund of Michigan.  Past activities included founding member of the Campaign to Keep America Warm in 1994; chaired the American Gas Association's Legislative Steering Committee in 1997; served on the Executive Committee of the National Fuel Fund Network from 1995-2000; served on the National Petroleum Council's coordinating committee for their 1999 natural gas supply study; chaired the Nuclear Energy Institute's Government Affairs Advisory Committee from 2006-07; and co-chaired of the Drive Natural Gas Coalition from 2010-12.  He also previously chaired the Michigan Business Group in Washington, DC and co-chaired the University of Michigan Club of Washington, DC's annual congressional breakfast.