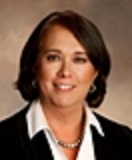 Chair Emeritus; Ex-Officio
Nuclear Waste Strategy Coalition

Commissioner
Vermont Public Utility Commission

Sarah Hofmann was appointed to the Public Utility Commission by Governor Peter Shumlin in 2015. She serves on the Telecommunications Committee and the Subcommittee on Nuclear Issues – Waste Disposal of the National Association of Regulatory Utility Commissioners. She also serves as a member of the Executive Committee of the Nuclear Waste Strategy Coalition (NWSC), the Executive Committee of the National Council on Electricity Policy (NCEP), and the Federal-State Joint Board on Jurisdictional Separations in Telecommunications.
Prior to joining the Commission, Ms. Hofmann was the Executive Director of the New England Conference of Public Utilities Commissioners, Inc. (NECPUC). NECPUC provides regional regulatory assistance on matters of common concern to the six New England states. Before becoming Executive Director of NECPUC, Ms. Hofmann was the Deputy Commissioner of the Department of Public Service. She also has served as the Director for the Public Advocacy and Consumer Affairs and Public Information for the Department and prior to that, Special Counsel. In her roles at the Department, she often directed the Department's litigation, including matters before the Public Utility Commission, the Federal Energy Regulatory Commission and the Nuclear Regulatory Commission, and the state and federal courts. 
Ms. Hofmann is a graduate of Rollins College and the University of New Hampshire School of Law. She resides in Montpelier, Vermont.